Visit the Company Website
Claim Listing
Send a Message
Guard Pest Control





(7 Reviews)
ABN Number:
Years Established:
2019
Hours:
9 am - 5.30 pm Monday to Friday
Pest Control License:
Yes
Insured:
Yes
Guard Pest Control offers guaranteed, eco-friendly and affordable pest management all through South East Qld. Guard Pest Control provide innovative and proven remedies that remove pest problems efficiently. Our local qualified pest technicians provide discreet, reliable and powerful pest control solutions that protect properties. Offering tailored pest management services to domestic and commercial premises. We provide you with a wide selection of safe and efficient treatments for pests & insects. Right from ants, bed bugs and spiders to roaches, mice and rats, we handle all infestations promptly. We are eager to assist you with your pest control issues inside and outside your residential or commercial building. We back our professional services with a 12-month warranty thus if any infestation comes back within one year your specialist will retreat your property completely free.
Getting a Pest Inspection
In their lifetimes, one in four residences in Australia will be attacked by termites. When purchasing a home, one of the initial things that you must do is have a pest inspection of your new property. Your dream house is a huge financial investment so you do not want to place it at stake. Guard Pest Control only employ building/pest inspectors that have been licensed & certified by the QBCC (Queensland Building & Construction Commission). Our pest inspections cover external and internal regions such as roof voids & subfloors. We observe strict Australian Standards while undertaking home inspections. When we identify termites, we're going to give you numerous options to meet every situation and spending budget. Our pre-inspection timber & timber pest infestation reports could provide you with such very important information as pest activity & loss of structural integrity found in internal and external areas. To get a 100 % free, zero-obligation consultation on what we could do in order to safeguard your house from pesky insects & pests, contact us right now.
Pesky Cockroach Issues
Pests like cockroaches are savage flying insects which are better known for their resiliency & adaptability. Roaches are actually prolific breeders that could live for about 3 weeks without any food. Identifying cockroach species is challenging unless you hold the practical knowledge of a pest technician. The 3 principal species that live in SE Queensland are the German Cockroach, the Australian Cockroach and then the American Cockroach. The most infamous of the roach species is undoubtedly the German Cockroach. German Roaches could possibly get transported straight into properties, hotels, coffee shops and restaurants on our belongings, goods like baggage, cardboard boxes and packages. Our way of roach treatment consists of the effective use of low-toxic insecticides and roach baits. If you have come across roaches in or around your house give our expert technicians a call.
Bed Bug Monitoring
Bed bugs go chomp in the night & feed on the blood of sleeping humans. Bedbugs aren't only a nuisance they could cause numerous health problems as well like secondary infections, anxiety & sleep disorders. Bed bug control is not a DIY job, so get professionals in to perform the job perfectly. We are going to fix your bedbug issues with our state-of-the art treatment solutions. We shall start addressing your house by carrying out a thorough bed bug home inspection. If they're in your home we can easily get them. Our trained experts will build a customised solution for bedbug destruction in your house.
Controlling Termites
The suburban areas of Brisbane are really conducive places for termite activity and most households are at potential risk. Termite baiting stations installed in the ground and above the ground are some of the strategies we take to manage termite attacks. Prevention or early detection of subterranean termites can really help lessen the repair costs associated with termite damage. Termites may cause considerable property damage when they remain undetected and unattended. Immediately after an assessment has been made you'll be provided a highly comprehensive treatment plus prevention plan and then a quote. These insect colonies could hole up in numerous hard to reach areas, such as roof beams & timber wall frames. They consume the wooden structures and also any wood or cellulose present within your place. A liquid perimeter treatment can safeguard your residence before the termites turn into an issue. Subterranean termites along with other pests that infest wood will ruin your personal property. They are able to seriously damage the structure of a building which can be very costly to repair.
On top of that, we have a wide range of pre-construction barriers to protect against termite attack. It's game over for harmful termites with the help of our advanced & highly effective treatments. Simply call for a 100 % free termite estimate & allow us to successfully handle your termite attack.
Reason To Choose Us
- Our protection is yearlong giving you peace of mind.
- Eco-friendly products that are really safe for your family members and domestic pets.
- Our pest control qualifications include being a part of the Australian Environmental Pest Managers Association (AEPMA).
- Comply with Australian & Queensland standards for pest control & pest management.
- We utilize the most advanced pest management methods, products and technologies.
- Commercial and industrial pest elimination treatments for a number of businesses.
- We offer an entire end of lease pest control service that treats property exteriors & interiors.
- Integrated pest management solutions for domestic homes.
- Termite treatment and protection that works.
- State-of-the-art thermal imaging cameras used for termite inspections.
- 100% guaranteed satisfaction.
Contact Our Friendly Team Today
If you'd like amazing service and guaranteed results speaks to our pest management professionals today. Give us a call today & we will provide you with an absolutely free estimate. Thank you for checking out our site. We expect to meet you soon!
Street Address:
10/410 Ann Street
Website:
https://www.guardpestcontrol.com.au
Phone:
07 3063 4040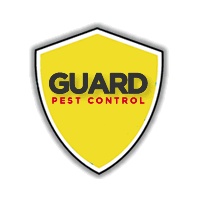 Listing added on: 06/07/20 , Total hits: 522
10/410 Ann Street